Become an l'islette sponsor
The public opening in 2010 was the opportunity to begin numerous works, both inside and outside the château, to improve L'Islette for visitors.
Since then, some large-scale works have been completed; the restoration of the chapel and its decorative paintings, the rebuilding of the bridge over the Indre, the creation of a ticket office at the entrance in the west pavilion.
In the spring of 2019, the restoration of the woodwork decorations on the base of the great hall and three transom paintings above the doors was completed. This would not have been possible without the donations raised through a crowdfunding campaign.
Many projects remain to be carried out.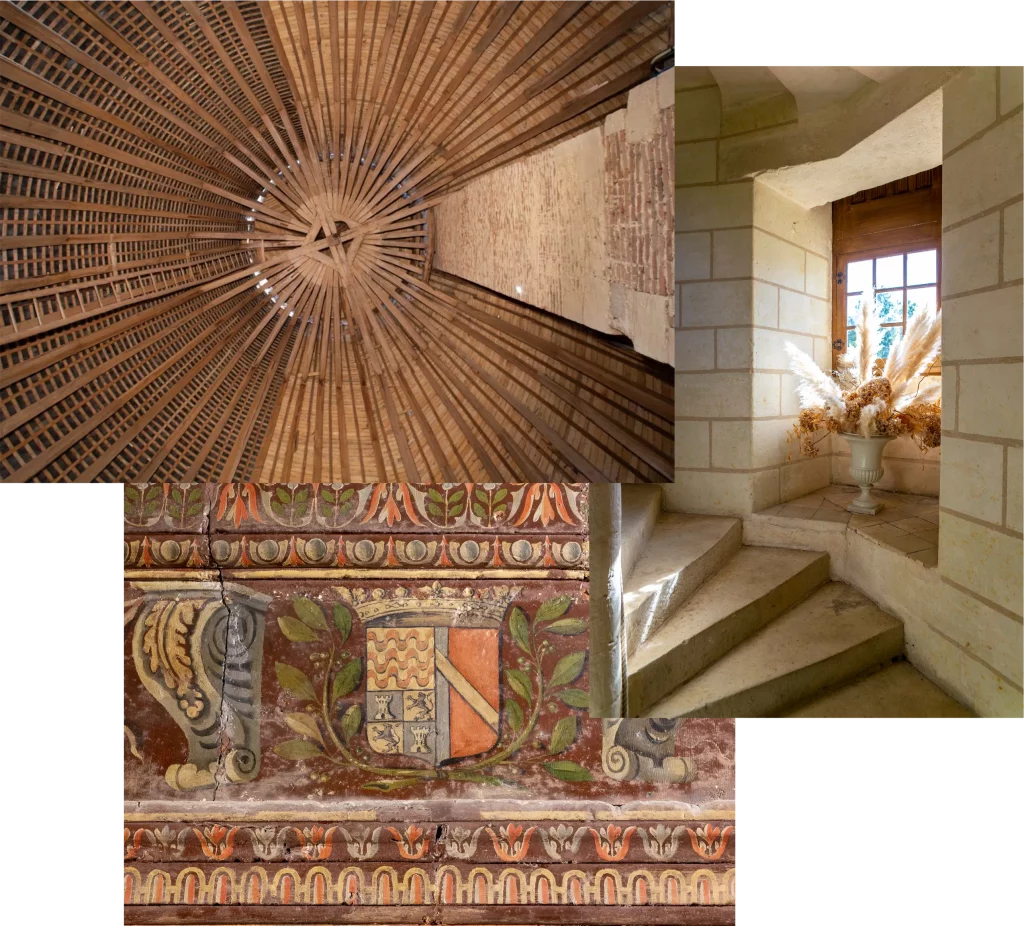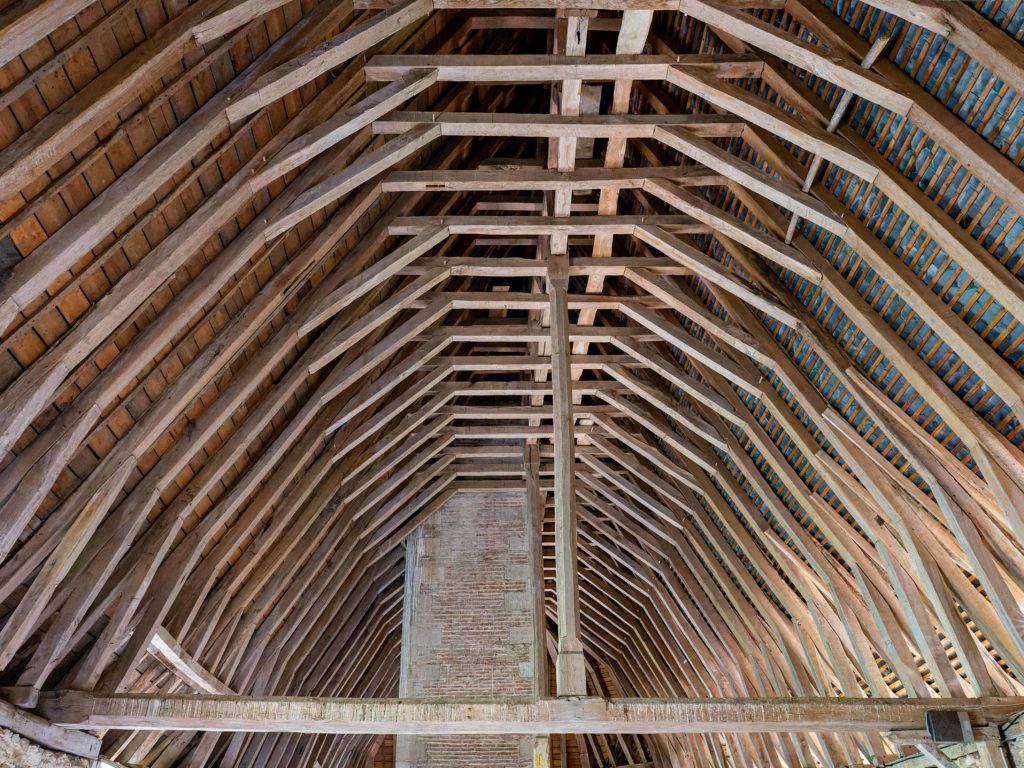 Restoration of the castle's attic to open it to visitors
The castle has a magnificent attic with a view of an exceptional roof structure.
A dendochronological analysis (a scientific method for dating pieces of wood) has confirmed that the oaks used to build it were felled in 1526/1528. Opening the attic would therefore allow visitors to l'Islette to admire this original framework, an example of the exceptional skills of 16th century carpenters, which has survived to the present day in an excellent state of preservation.
The attic is also an impressive space, as the main building is only one room at this level, 36 metres long and 13 metres high under the ridge! This space could also be a great exhibition space.
In addition to the work on the roof structure to remedy the few existing problems and to highlight this marvellous assembly of wooden parts, access to the attic requires the complete restoration of the floor by laying terracotta tiles as in the castle's original construction.
We therefore propose that you help us and become a patron of l'Islette in order to carry out this important restoration project. A sponsorships agreement signed with La Demeure Historique will allow you to benefit from a reduction of tax on your income at a scale of 66 % of the amount of your donation (over 50 €, and only for people who pay its income in France). You can donate:
– en ligne sur la page consacrée à l'Islette sur le site www.mecenatmh.com
- by post, sending a cheque (made out to "Demeure Historique - Château de l'Islette") to Demeure Historique, 57 quai de la Tournelle, 75005 Paris, France.
This tax advantage also applies to corporate sponsorship; businesses can also benefit through tax reductions on their donations, as granted by article 238 bis of the CGI.
We thank you most sincerely for your support for this project, which we have been dreaming of since we opened this place to the public.
Pierre-André & Bénédicte Michaud
2018 crowdfunding campaign on dartagnans
A huge and warm thanks to the numerous sponsors. Their amount, corresponding to a total of 10 812€, had widely permitted to finance the restoration of the three paintings above the doors in the Great Hall and the painted decorations of the bedrock's paneling.
Thanks for their support to:
Véronique BARTHOLOME, Maryvonne BERTHO, Claire BEUREY, Yann BIANCARD, Thierry BOHIN, Jean-Paul BONTEMPS, Jean-Louis BOUFFETEAU, Dominique BOULIN, Violaine BOURGEOIS, Nelly BRIDENNE, Laurent CANCHES, Alain CAPON, Mireille CARRIERE, Olivier CATIN, Vasile Andrei CHIS, Roger COIGNEE, Vivian CRETTOL, Brigitte DAUMAL, Jean-Marc DEBAETS, Francis et Brigitte DECAMP, Fabio DEGLI ESPOSTI, Jean et Claire DIGNAT, Michel DIJOUX, Laura DROUET, Mylène DUNOUAU, Héloïse DUPIN, Geneviève DUVAL, Simon FAUQUEMBERGUE, Agnès FAURE, Kristina FERET, Frédéric FLEURY, Annie FONTAINE, Maud FOURNEL, Joakim GAUTIER, Aurélia GILARDI, Jean-Claude GIRON, Eva et Christian GOURNAY, Aurore GOVAERT, Patrick GRANDJEAN PERRENOUD COMTESSE, Elisabeth HUSSON, Laurence HYEST, Michèle JAY, Jean François JURIC, Laird Guillaume LACORDAIS, Dominique LAFFAYE, Antoine LAMARQUE, Christophe LATEULERE, Pascale LE RUDULIER, Jean Paul LEBRUN-LAMBEAU, Geoffrey LECLAIRE, Eric LEHMANN, Thierry LEMAITRE, Edith LESCONVARC'H, Jean-Rémi MACENKO, Julien MANDEL, Danielle MARTINEZ, Thomas MEERMAN, Christophe METAYER, Jean-Paul MONCHAU, Lise MONTMAGNER, Flavien MOUSSET, Michel ORSAT, Jhansi PAPUDESI, Jean Claude PAROTIN, Jean-Hugues QUIDEAU, Nathalie RIVIERE, David ROBERT, Christine ROUSSELET, Pascal SALVAUDON, Leonora SIGNIFREDI, Bruno STACHETTI & Xavier LE NOCHER – HÔTEL DE BIENCOURT à Azay-le-Rideau, Anne TARDITS, Sylvie TAUGOURDEAU, Christine TOUZE, Louis-Paul UNTERSTELLER, Philippe VARIN, Franck VAUCHEL, Jacqueline VENAULT, et aux donateurs restés anonymes.